Exclusive toiletries and amenities for luxury boutique hotels and B&B's
---
Refillable pump bottles
s
---
An elegant eco-responsible and economic solution for your guest toiletries that can be wall mounted and refilled with our 5L refill containers.
Our Plastic Free Solutions
---
Reduce your use of single use plastic by offering your guests solid shampoo products and refillable glass bottled cosmetics.
Natural Eco Collections
---
Clean eco friendly hotel toiletries made from a minimum of 95% natural origin ingredients and fresh natural fragrances.
Précédent
Suivant
Our collections of natural and ecological cosmetics
Clean eco friendly hotel toiletries made from a minimum of 95% natural origin ingredients and fresh natural fragrances.
Our natural cosmetics contain up to 98% natural origin ingredients
We follow the strictest European cosmetic standards for our natural cosmetic ranges with clean and ethical formulations made in France & Italy.
• We exclude undesirable ingredients considered toxic or subject to ecological or health controversies such as parabens, phthalates, phenoxyethanol, PEGs, silicones, mineral oils, synthetic dyes, chemical filters, no nanoparticles etc…

• An ethical approach against animal testing with recycled and recyclable packaging or "zero waste".

We propose exclusive hotel cosmetic collections that are elegantly fragranced perfume with lingering scents.
High quality formulations without controversial ingredients that offer a unique olfactory experience and that will add a refined touch to your bathrooms.
Rapid Delivery
Receive your order in 3 to 5 days.
Shipping costs starting from 15€ for deliveries to Metropolitan France, Luxembourg, Belgium and Spain. Free Shipping for orders over 800€.
For other destinations, please contact to receive a shipping quote and to place your order.
Volume Pricing
Contact us to discuss your hotel requirements for large and recurring orders and receive a price quote.
We sell direct to our hotel partners in order to provide best pricing.
Product Promise
Our cosmetics are made in Europe (France, Italy and Belgium) according to strict European norms for natural cosmetics.
Ask us for samples to test before you purchase.
Solid Hydrating Shampoo for hair and body
Zero Plastic | Reduced Waste | Multifunctional | Biodegradable | Practical | Economical | up to 98% natural ingredients
Solid bath and body care products without plastic packaging are appealing more and more and offer an alternative to single use plastic. Highly effective, economical and sensory, with its perfumed lather, our multi-functional solid shampoos are made with 98% natural origin ingredients.
New 15g single use format now available. New extra lathering gentle and extra lathering formula.
Refillable pump bottles for your guest toiletries

High quality hotel cosmetics in 300ml refillable pump bottles made from 100% recycled plastic. An elegant , eco responsible and economic solution for your hotel toiletries. 5L refill containers are available for all of our products including our natural collections.
Custom labels are possible from 100 pieces. Several pump bottle models are available including glass bottles for a plastic free solution.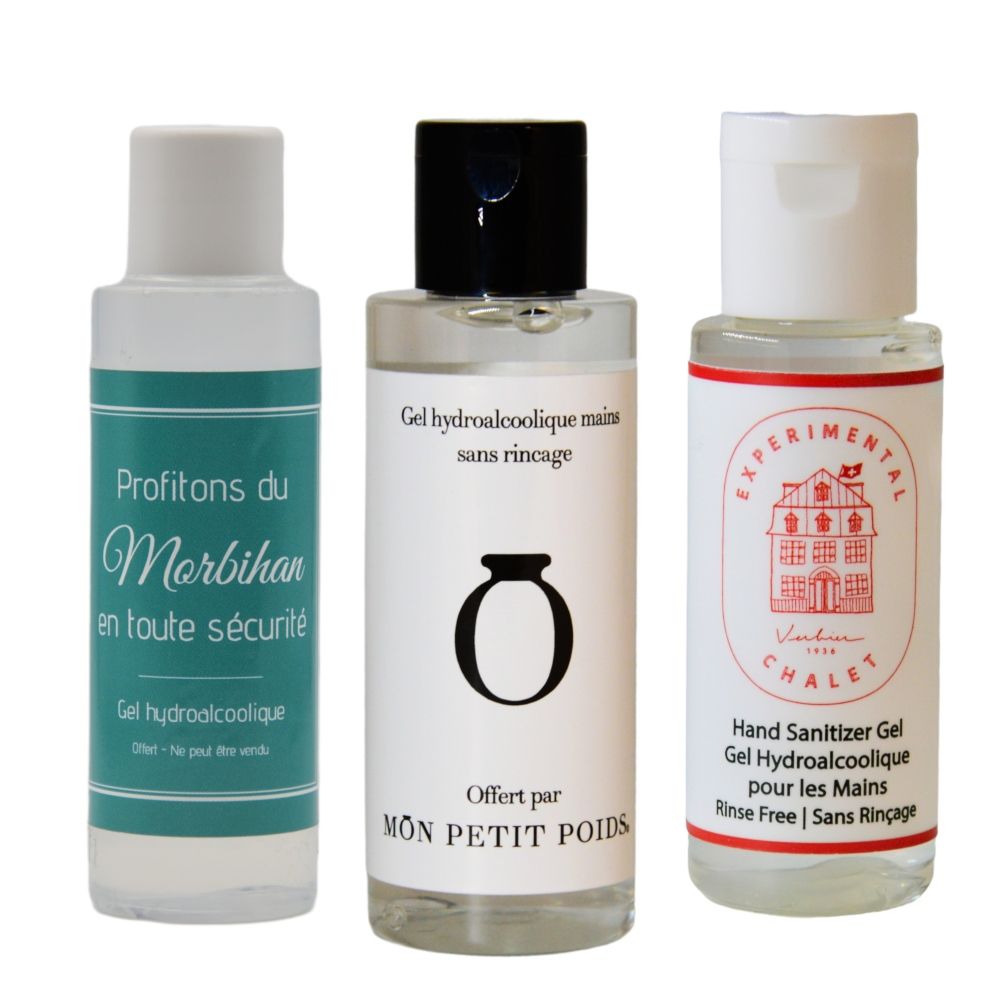 Offer a custom designed hand sanitizer gel in individual bottles
Minimum 70% Alcohol with added Glycerine | Antibacterial | Rinse Free
Available in individual bottles (30ml to 50ml), pump dispenser bottles and 5L refill containers.
Offer your clients a custom designed bottle of hand sanitizer gel or select one our branded designs to match your hotel cosmetics range.
Customised labels with your logo are possible for orders starting from only 500 units.
Serving prestige clients since 2009, we have designed our cosmetic collections especially for luxury and boutique hotels.
Our clients – hotels, châteaux, bed & breakfasts, vacation rental properties, chalets, restaurants, AirBnB etc. – appreciate our highly personalised service and our exclusive niche brands to add character to their establishments.
General Sales Terms & Conditions
Les présentes Conditions Générales de Vente (ci-après les « CGV ») ainsi que les Rubriques « Confidentialité » et « Mentions Légales » sont applicables sur les achats effectués sur le site Internet www.HDfragrances.com « le Site »), ou en direct avec HD Fragrances.
Toute commande au près de HD Fragrances vaut acceptation pleine et entière des présentes CGV par le client qui y effectue un achat (ci-après le « Client »).
Ces CGV peuvent faire l'objet de modifications à tout moment, les CGV applicables étant celles que le Client accepte lors de la passation de sa commande, et qui sont accessibles sur le site www.HDfragrances.com.
Links to other websites
Bien que ce site Web puisse être lié à d'autres sites Web, nous ne sommes impliqués, directement ou indirectement, dans aucune validation, association, parrainage, adhésion ou affiliation avec un site Web lié, sauf indication contraire dans la présente.
Vous devez lire attentivement les mentions légales et les autres conditions d'utilisation de tout site Web auquel vous accédez via un lien à partir de ce site Web. Votre lien vers d'autres pages hors site ou d'autres sites Web est à vos propres risques.
Legal Mentions
Mentions légales
Les « Mentions Légales » sont applicables sur les achats effectués sur le site Internet https://www.HDfragrances.com (« le Site »), ou en direct avec HD Fragrances.
Responsable du site
HD FRAGRANCES SAS
SIRET 879 913 564 00016
TVA/VAT FR67879913564
963 Draille des Parties Eygalières N. 13810 Eygalières France
info@hdfragrances.com
Contact: Lisa Harrison
Herbergement du Site: GoDaddy.com
Copyrights et marques déposées
La totalité du contenu de ce site, comprenant, mais sans se limiter à cette liste, les textes, le design, les images, les interfaces ou les codes, de même que leur sélection et leur mise en page, est protégée par le droit d'auteur au titre d'œuvre collective selon les lois européennes et d'autres lois protégeant les droits d'auteur. Le contenu de ce site est la propriété de HD Fragrances and Advisory Services. Tous droits réservés. Any reproduction, by whatever means, of all or any part of the site or its content is strictly forbidden, except with the express permission of HD Fragrances (requests by e-mail to the Webmaster : info@HDfragrances.com Toutes les marques commerciales (« About Rose », « Majolica », « Côté Sud Parfums », « Être Cosmétique BIO », et « Re Source| »), les marques de service et les noms commerciaux (dénommés collectivement les marques) sont des marques déposées de HD Fragrances et en sont sa propriété. © Copyright 2019 HD Fragrances
Responsabilité
HD Fragrances multiplie les efforts pour maintenir le site https://www.HDFragrances.com à jour. Nous ne pouvons cependant pas garantir la précision ou l'exhaustivité de l'information présentée à tout moment sur le site. Nous ne pouvons pas être tenus responsables non plus des conséquences de son usage par les visiteurs.