Purchase High Quality Toiletries & Amenities for your hotel, B&B..
First Visit ?
Please contact us should you have any questions or if you would like to receive samples to test our products. Shop here if you are looking for a delivery to France metropolitan, Belgique, Luxembourg or Spain metropolitan. For other destinations, please contact us to receive a shipping quote. We ship across Europe and the world..
Fast Delivery
Receive your order in 3 to 5 days.
Sans Minimum d'achat
Product Promise
Our cosmetics are made in Europe ( France & Italy) according to high quality standards.

Volume Pricing
Contact us to receive a quote for large or recurring orders.
Le savon, un produit d'accueil indispensable. 
Aujourd'hui pas une chambre d'hôtel ne propose pas au moins un ou deux savons dans ses salles de bains. Qu'il s'agisse de savons classiques solides de 15g à 30g (emballés en papier ou insérés dans une boîte carton), il est primordial de proposer un savon pour les mains notamment à vos clients. Ce choix de format et de contenant vous permet de répondre ainsi au mieux à vos besoins, à la fois en termes d'esthétisme, de praticité ou encore de coût. Sachez également que vous pouvez opter pour un savon liquide en flacon à pompe de 300 ml. Ces flacons gels 3 en 1 sont de plus en plus tendances. A la fois économiques et écologiques, ils vous permettront grâce à un seul produit de répondre au mieux aux besoins de vos clients tout en optimisant vos dépenses et réduisant vos déchets. Découvrez toutes les collections de savons et produits d'accueil
Formulations extra doux, Ecolabel, à base d'huile de palme RSPO ou à base d'huile d'olive
Offer your guests a hand sanitiser gel with your branding.
We offer the possibility to create a custom designed label for our hand sanitiser gels. Choice of individual bottles from 30ml to 50ml.
Minimum order quantity of only 500 pcs.
Rapid Delivery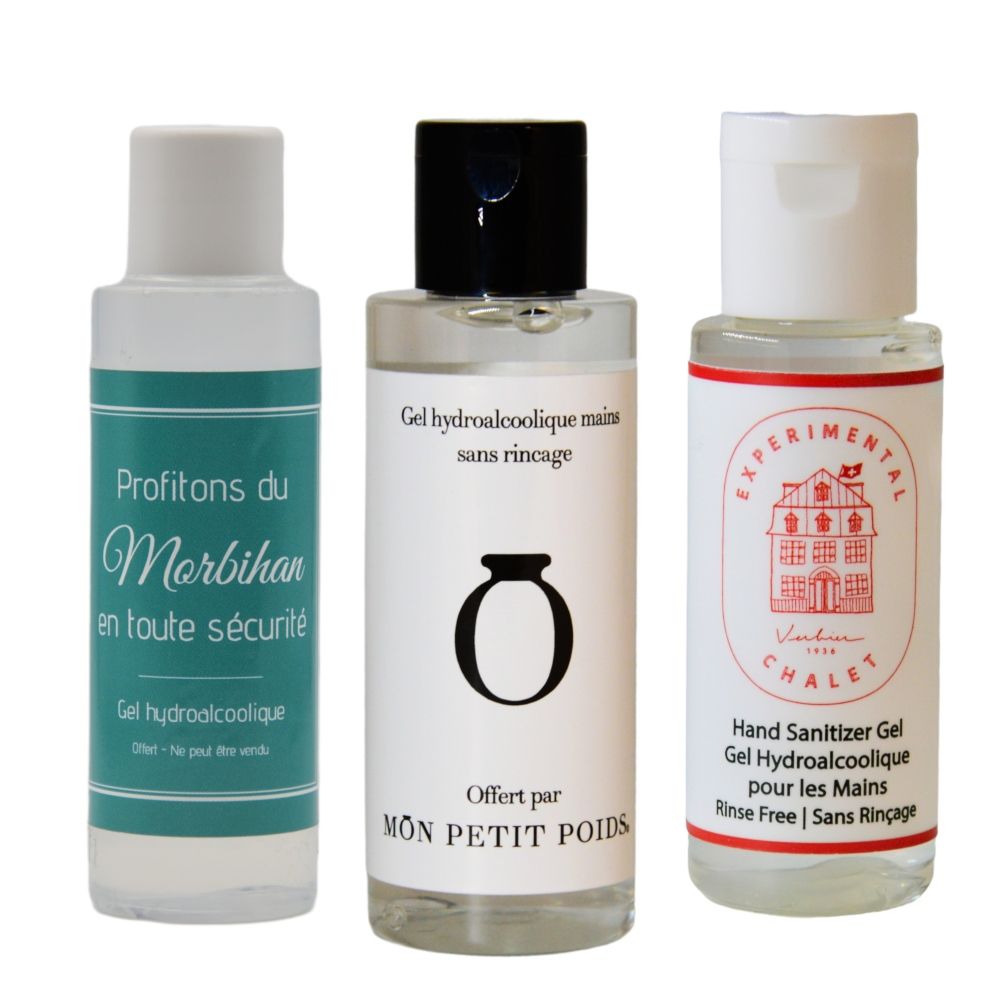 Ceci est un aperçu des produits récemment consultés par l'utilisateur.
Une fois que l'utilisateur a vu au moins un produit, ce fragment sera visible.
Recently viewed products