High Quality Guest Toiletries, Amenities & Room Fragrances
Designed for Luxury Boutique Hotels
Discover our certified organic guest toiletries collections
Special Offers
Take advantage of great prices on two of our bestselling guest collections. Buy now while quantities last .
Côté Sud Parfums Collection
Save up to 25% off selected items
An unforgettable guest toiletries collection inspired by the scents of the Mediterranean.
Majolica Noir Collection
Save up to 25% off selected items
Soaps and luxuriously scented bodycare products with an elegant minimalist design in black, gray and white.
Rapid Delivery
Free Delivery on orders greater than 800 euros to France metropolitan and Belgium .
For other destinations, please contact us to place your order and to receive a shipping quote
Negotiated Pricing
Contact us to receive a personalised pricing offer for large and recurring orders
We work directly with our hotel partners in order to provide a personalized service and unbeatable value.
Our Product Promise
Hotel Toiletries made in Europe to highest standards with safe skin friendly ingredients made without harmful preservatives.

REQUEST SAMPLES TODAY!
High quality hotel cosmetics at competitive prices by a French perfumery house renowned for the luxury of their collections.
We provide hoteliers with exceptional guest toiletries and perfumed room sprays that are truely unique, made in Europe and blended with fragrances according to the traditional art of perfumery.
We offer bath and body care products for your guests that are extra gentle, responsibly made to European cosmetic standards. We are committed to developing environmentally-friendly formulations, using ingredients from natural renewable sources, recyclable packaging and partnering with reputable companies that share our philosophy.
Discover our luxury guest collections
Discover our new perfumed towelettes!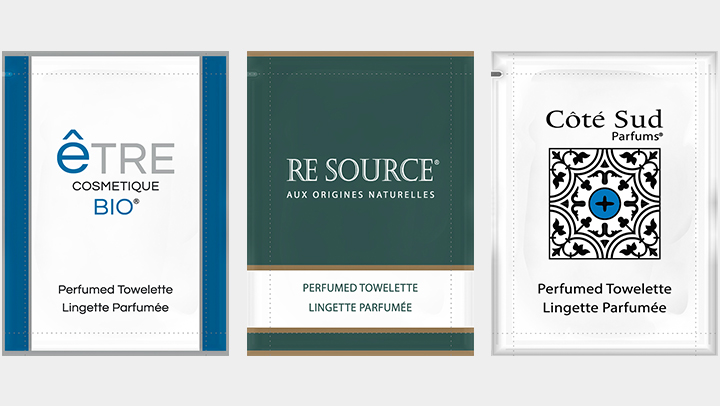 The perfect welcome for your guests.
Choose from the choice of three popular fragrances or create your own.