Choose from one of our exclusive niche hotel cosmetic brands

Our guest toiletries are made in Europe to highest standards
Certified Organic Guest Toiletries Collections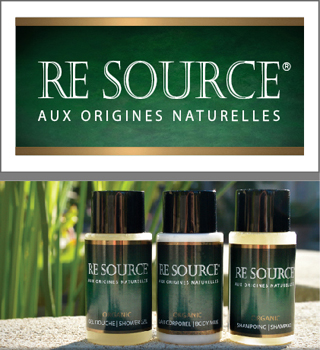 Certified organic guest toiletries with a delicate verbena citrus perfume, elegantly presented in a green and black design for a touch of botanical freshness.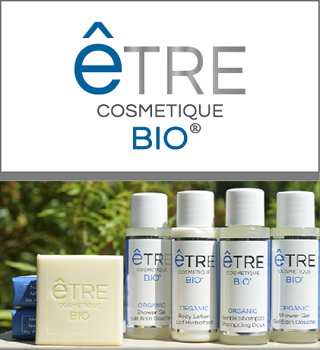 Certified organic guest toiletries with a delicate verbena citrus perfume. Our first and most popular organic range designed to please and pamper.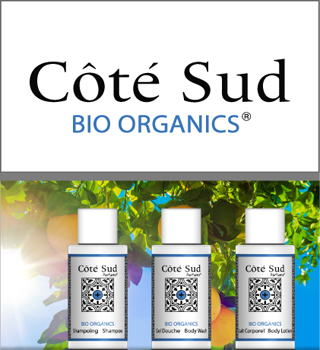 Certified organic guest toiletries with a delicate blend of citrus essences, including bergamot, tangerine, lemon and orange. Our iconic " blue and white" design in an organic range designed to evoke the scents of the sunny south.
Offer your guests one of our certified organic hotel cosmetic collections made in Europe and formulated to exceed both Cosmos and Ecocert standards.
Eco-responsible solutions with bio-degradable ingredients based on renewable plant raw materials.
Éco-responsabe & Biodégradable
Sans Paraben
Sans BHT
Sans colorants artificiels
Sans Phthalate
Sans EDTA
Sans huiles minérales
Sans SLS/SLES
Sans Phénoxyéthanol
Sans Silicone
Sans produits pétrochimiques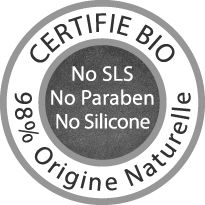 Classic Luxury Guest Collections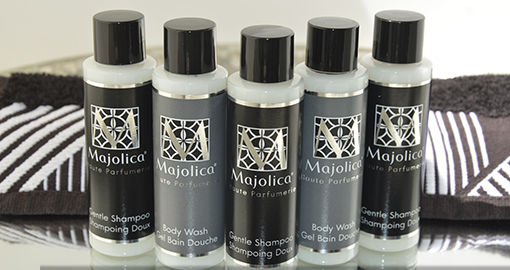 Shades of black and grey for essential style and refinement. Your guests will love this cosmetics collection with its subtle perfume with notes of green tea, citrus and rare flowers that blossom onto a musky base. A fresh natural fragrance that wears like a second skin.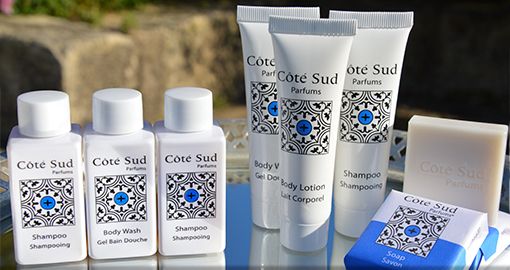 An unforgettable guest toiletries collection inspired by the scents of the Mediterranean. High quality products made to evoke memories of destinations where the sun shines bright and the skies are always blue.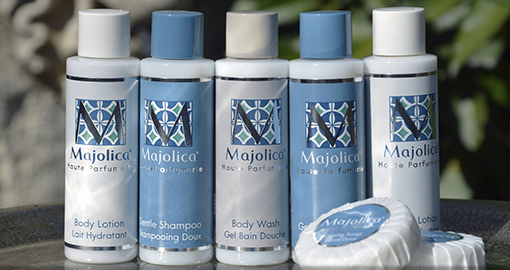 Inspired by the elegant hand crafted ceramics of the same name that gained celebrity during the Renaissance when a collection of Majolica signified affluence and good taste. Be instantly transported to the shores of the Mediterranean coast with this fresh scent with top notes of fresh ripened citrus and Neroli.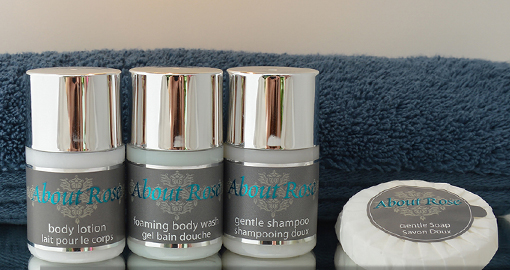 The stylish classic packaging will add character to any interior with an elegant refined floral fragrance that opens on top notes of tangerine, cedarwood and black current with hints of spice. The heart is floral with velvety iris, violet and vetiver endng with warm notes of amber, incense and musk.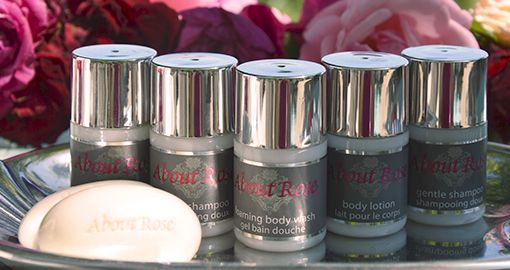 The fragrance opens with fresh Italian bergamot and Moroccan rose essence leading to heart notes of Rose Absolute with warm velvety iris, sandalwood and Labdanum. Sophisticated woodsy notes of ambergris, surrounded with deep notes of musk and hint of vanilla provides long lasting warmth and sensuality. The stylish classic packaging of this guest toiletries collection will transform your rooms into a palace.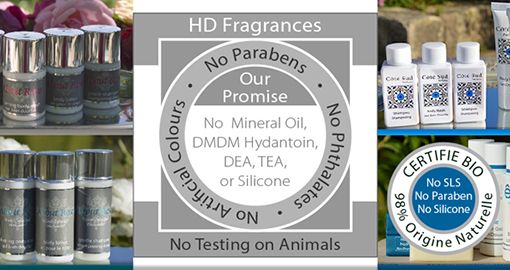 Our hotel soaps, bath and body care products are made in Europe with gentle skin-friendly ingredients.