New Solid 3in1 Shampoos for Hair and Body


Plastic Free
Concentrated formula made without water and 98% natural origin ingredients
Introduce your guests to plastic free guest toiletries.
A multi-functional cosmetic product for hair, body, face and hands. Without preservatives,sulfates, silicone or paraben.
The latest trend in guest amenities that your clients in the know will thank you for. Concentrated without water, our solid shampoo products eliminate the need for plastic bottles. Better for the environment. Ideal for your hair and skin.
We offer the possibility to create a custom designed collection of products with your logo.
Create your own solid shampoo collection in a range of sizes starting from 10g to 50g with your choice of fragrance and choice of packaging options. For a complete guest care solution, add a dry body oil in a glass bottle to replace your traditional body lotions.
Contact us today to discuss further and to find the best solution for your hotel.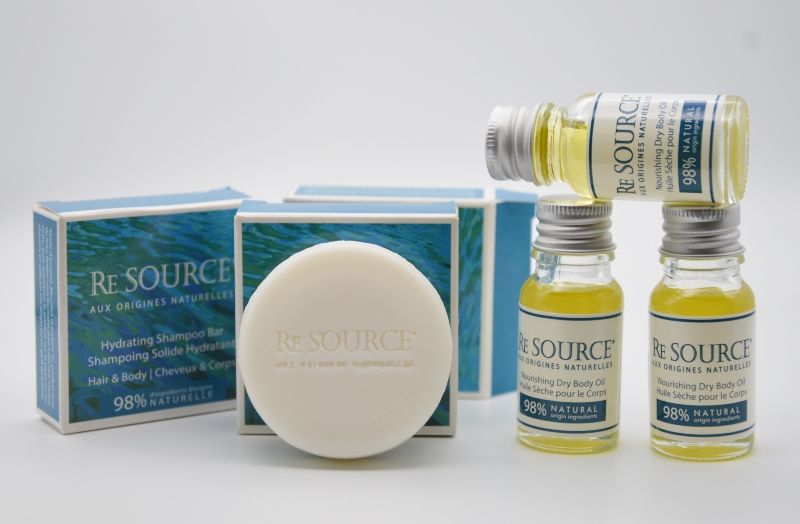 Plastic Free Zero Waste
With a carton box that can be recycled or reused for your guests to take unfinished products home.
98% Natural Origin Ingredients


Organic ingredients with added honeyquat, amaranth protein and willowbark for extra nourishment. Without sulphates, silicone or preservatives.
Multi Functional


An extra conditioning formula makes it ideal as a shampoo, body wash and soap for hands and face. Great also as a shaving cream.
Pratical & Economical


No plastic sorting or refills required. An affordable option that will replace several guest products and that will last from 5 to 15 washings depending on the size.
Eco-responsible & Bio-degradable
Concentrated without water for a drastically reduced carbon footprint with zero impact on our oceans and ecosystems.
Easy to Use
Wet the surface of the product with ample water, rub with hands to create a rich lather, and then apply the product on the skin or hair using your fingers or a washcloth.
In Paris, the first hotel to eliminate plastic from their rooms.
HD Fragrances in the Press
With this approach, the Hotel Opéra Liège hopes to shake up habits. "Take a shower, drink a glass of water or a coffee ... These are all things that travelers do every day, whether at home or in a hotel," insisted the founders of Racing for the Oceans. . So we hope that a simple stay with us will kickstart the change. »
For its part, HD Fragrances has observed a craze for its "Swiss army knife" solid shampoo bar. "More and more hoteliers are ordering them from us," said Olivier Decoster.


Reduce single use plastic at your hotel
We are proud to propose this revolutionary new product without plastic packaging. A great alternative to 300ml dispenser solutions for a individual sized product.
For establishments who have decided to reduce single use plastic and who wouuld like to position themselves at an eco responsible hotel, this solid cleansing shampoo is an innovative product. The result of extensive research and testing to find the ideal foaming formula for a gentle and effective cleansing of the face, body and hair.

A high quality product at an affordable price that your clients can take home with them to finish.
Make the change towards a more sustainable world